18. feb 2003

We had the napkin with the notes from the galla dinner at ATypI in Leipzig 2000, Henrik Birkvig and I on the flight back to Copenhagen, and we knew that we, together with Kim Pedersen, were about to organize ATypI in Copenhagen the year after.
And already then we sketched the cliches for identity of the conference: Red-white, old-new – the font by Engelhardt that is used for street signs in Gentofte and an animated logo.
The title of the conference: 'Looking at the future in the rear-view mirror' came later, but it was almost in the cards from the flight back home.

4

23
Dynamic logo generator
The logo were created as a Flash movie, that were visible on the website and conference screens.
The static versions were designed by means of the Flash movie. As it was running, it randomly outputted a sequence of screen captures, from which we chose the ones to use. The actual design job were to pick the right ones from a pile of automatically layouted outputs.
23
Print for the T-shirts
We started the logo and dumped a series of screens, spreaded the dumps out and selected one of them for the t-shirt.
Print for the T-shirts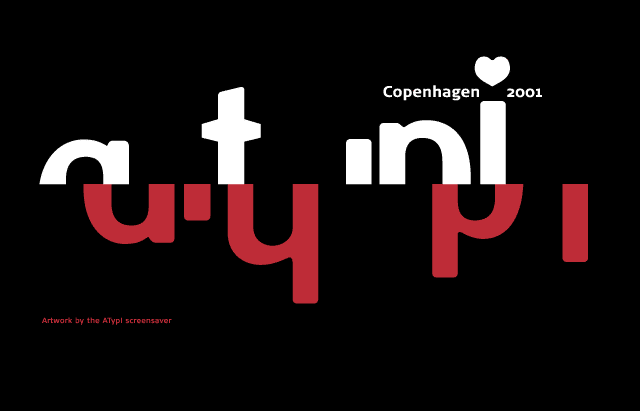 Print for the T-shirts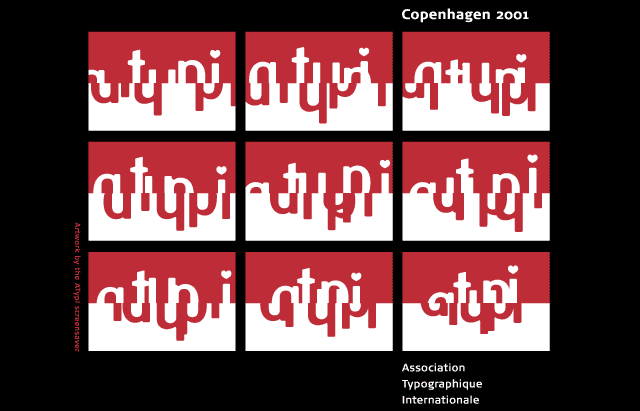 23
Signs on the wall
Signs on the wall