14. dec 2014

How do I Like a post telling about a brute incident? That's a question I ask myself now and then: do I 'like' the person who is posting, the action to bring the story to the public – or the brutality the story describes? I may be confused over the community consensus, simply because of the dilemma. Wouldn't a dislike button be nice, such as Zuckerberg says that facebook is considering to implement?

3

201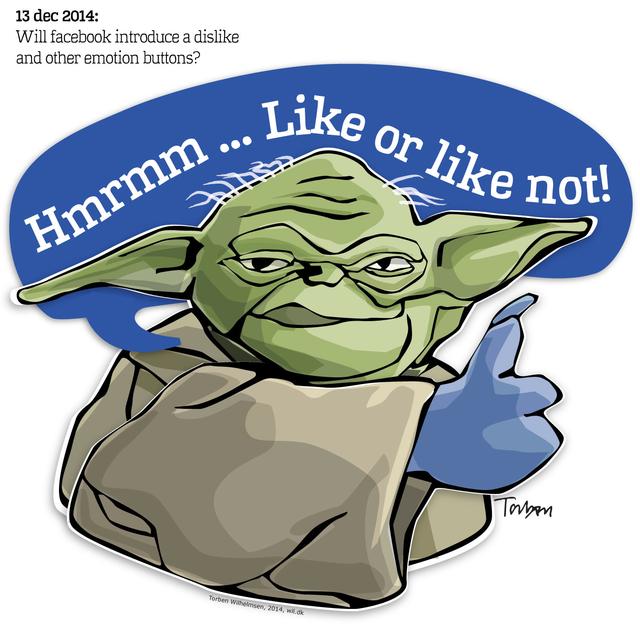 23
No. It. Won't.
No. A Dislike button won't be nice. Though it may be discomforting to Like a 'negative' story on facebook, a Dislike button is just not the solution:
It doesn't solve the confusion, since a Dislike has exactly the same conflict: is the Dislike pointed to the content of the post, the person, or the bringing the story to life? It'll still need a community consensus around the meaning.
It'll extend the pseudo democratic forum that's already there, simulate actual polling, stimulate manipulation, populism, even fraud with the public opinion. It will go on in a privatized and possible speculative context, since it's not a public owned platform. And even only for members. Only the 'blogger', facebook, and the media benefit from the aledged public roar. The fact that this kind occasionally brings righteous and meaningful protest (or support) doesn't make up for the increasing noise.
It may toughen personal critics or abuse. The Like that is not given is simply not as bad as a Dislike.
Finally, and I believe that facebook is well aware of this, a Dislike button will systematize even instrumentalize and thus encourage heckling. This is hardly an atmosphere that is in line with facebooks business model. Let's stick to the Like button, as simple as it is and as awkward it may seem, complexity won't help. Keep Master Yoda in mind: "Like or like not. There
is
no…"